Home
>
Celebrations
> #1MonthSalaryBonus for all government agency personnel who served in Pope Francis visit
#1MonthSalaryBonus for all government agency personnel who served in Pope Francis visit
we are all impressed and we do appreciate the dedication and job well done of all military, police, emergency, MMDA, barangay and other government agency personnel who were on duty and gallantly served during the Pope Francis Philippine visit.
we are all proud and thankful for their successful and excellent service.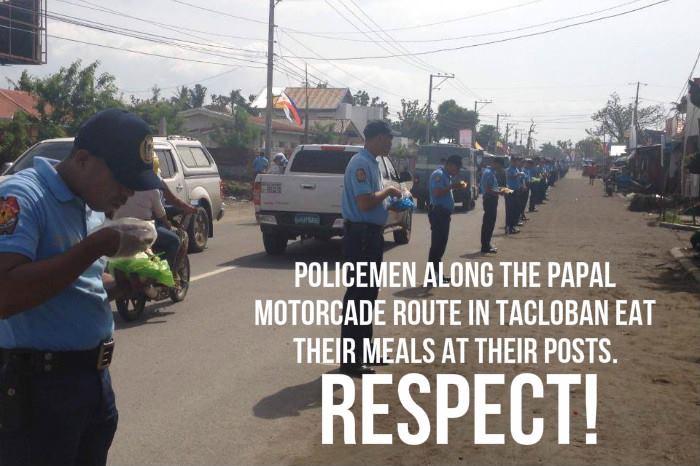 we are petitioning the government to give each one of them at least a 1 month salary bonus in appreciation and recognition of a job well done. 
if you agree with this and you want to give recognition to those who worked hard to protect, keep him safe  and make sure  everything goes well with Pope Francis and his visit to the country, retweet these:
*picture sourced from FB
how great are the PHL government agency personnel, preparation and execution and the pinoys who went to the Luneta park event of Pope Francis? 6 tp 7 million people attended the event and ZERO incident!
1 Million hits and going...
comments & reactions
we invite and encourage everyone to give their comments or reactions to posts and comments in this blog. we will not allow comments and reactions that are derogatory or insulting to posters in this blog. excessive profanity will also not be allowed. we like to hear what you think of the topic being discussed, not on the people who post here.
top rated posts, comments & sections
comments, suggestions & inquiries
send an email to: wawam.email@gmail.com
contribute to this blog, contact us
2010 presidentiables welcomes your comments, views or opinion on posts in this blog. we also welcome contributors to this blog. you can also get in touch with us through this email addy: wawam.email@gmail. com
Categories
2008 copyright
comments and views expressed in this blog by readers and bloggers are exclusive to those who posted them and are not from the owners and authors of wawam.wordpress nor do they share the same. all rights are reserved on all posts, wawam photos and other photos that are posted in this blog. these may not be published in full or in parts in any form whatsoever in any media without the expressed written consent of wawam, the copyright owner.