Posts Tagged 'imelda marcos'
1,400 Catholic schools back call vs 'Marcos snares, Imeldific lies'

NEVER AGAIN. Leaders of Catholic schools speak out against 'Marcosian Snares and Imeldific Lies' after the Ateneo community released a statement on the issue. EPA file photo

MANILA, Philippines – More than 1,400 Catholic schools represented by their group, the Catholic Educational Association of the Philippines (CEAP), joined the call against the supposed attempt of Ferdinand "Bongbong" Marcos Jr "to canonize" his father's regime.

"The Trustees of the Catholic Educational Association of the Philippines, representing the 1,425 CEAP member-schools, colleges, and universities, support the faculty of the Ateneo de Manila University in their call against the attempt of Ferdinand Marcos Jr to canonize the harrowing horrors of martial rule," CEAP said in a statement late Monday evening, March 7.

The statement is titled, "CEAP Supports Call Against Marcosian Snares and Imeldific Lies."

CEAP issued this statement after presidents of the Philippines' 5 Ateneo universities, run by the Jesuit religious order, lent their weight to a call against the "revision of history" by Marcos Jr.

In the statement released on March 7, CEAP said it supports the Ateneo de Manila University's faculty in condemning "the attempt of Ferdinand Marcos Jr to canonize the harrowing truths of martial rule."

"With the same fervor, we cry our hearts out, 'Never Again!'" CEAP added.

Like the Ateneo professors, CEAP said they remained committed to teach the truth, calling upon the Department of Education and Commission on Higher Education to have "the same level of introspection."

However, they also admit possible shortcomings: "It seems we have been remiss in instilling in the youth's consciousness about the regime's brutal savagery. Instead they have been drowned out by the Marcosian snares and the Imeldific lies."

'Willful distortion of history'

The original statement from the Ateneo faculty had nearly 530 signatories from the Ateneo community as of March 7.

Along with faculty from the Grade School, High School, and Loyola Schools, Ateneo Presidents have also added their signatures.

Of these, Ateneo de Zamboanga University President Fr Karel San Juan, SJ and Ateneo de Davao University President Fr Joel Tabora, SJ are members of the CEAP board of trustees. Tabora is the CEAP vice president while San Juan is the CEAP trustee for the Zamboanga Peninsula.

The Ateneo faculty railed against "the shameless refusal to acknowledge the crimes of the Martial Law regime" and "the revision of history, disturbing vision of the future, and shallow call for 'unity' being presented by Marcos Jr and like-minded candidates in the 2016 elections."

They issued the statement in response to Marcos saying historians, not politicians, should judge his father's rule.

Catholic schools vs Marcos regime

Students and faculty of Catholic schools were some of the major opponents of the Marcos regime with many members joining the protest movements long before EDSA I in 1986.

Ateneo graduates like former Antique Evelio Javier, poet and activist Emmanuel Lacaba, and youth activist Edgar Jopson were outspoken critics of the Marcos regime. All 3 died under Marcos' rule. (READ: Edjop, Imelda Marcos, and the fear of forgetting)

Other prominent Catholic educators in the Philippines like Sr Mary John Mananzan, former president of St Scholastica's College Manila, also stood up against martial law and participated in EDSA I.

Senator Marcos has staunchly defended his father's regime, refusing to apologize for whatever may have happened during that period. (READ: 'Bongbong Marcos knows what to apologize for')

According to Amnesty International, about 34,000 were tortured. Nearly 3,240 were killed. Others lived to retell their ordeal so that the new generation would learn from this dark period of Philippine history. (WATCH: 'Lucky day': Surviving torture during martial law)

His popularity has been on the upswing and continues to rise despite his stand on Martial Law. (READ: Marcos years marked 'golden age' of PH economy? Look at the data)

In the latest February 15 to 20, 2016 Pulse Asia survey, Senator Marcos got 26% of the vote, a 3-point increase from January 2016. – Rappler.com

source : http://www.rappler.com/move-ph/125012-catholic-educational-association-philippines-admu-bongbong-marcos
this was this morning at Malacanang during Pope Francis' speech. the camera seemed to have captured VP Binay's reaction when Pope Francis said "Reject all corruption that divert resources from the poor."
the picture seem to have captured the moment when Pope Francis said those words. look at the picture it was literally ONLY VP Binay who looked away from the Pope, the opposite of where everyone was looking. everyone in the picture, including his wife Elenita was looking at the pope.
the reaction was priceless!
the moment Pope Francis spoke about rejecting corruption, philippine social media exploded with tweets on the topic. admit it – we are guessing the moment Pope Francis mentioned "rejecting corruption" you like most people thought of VP Binay! yes?
we have a twitter account (@wawam) and one of our tweets was quoted at rappler.com
read it here: http://www.rappler.com/specials/pope-francis-ph/81000-social-media-pope-aquino-speeches
———–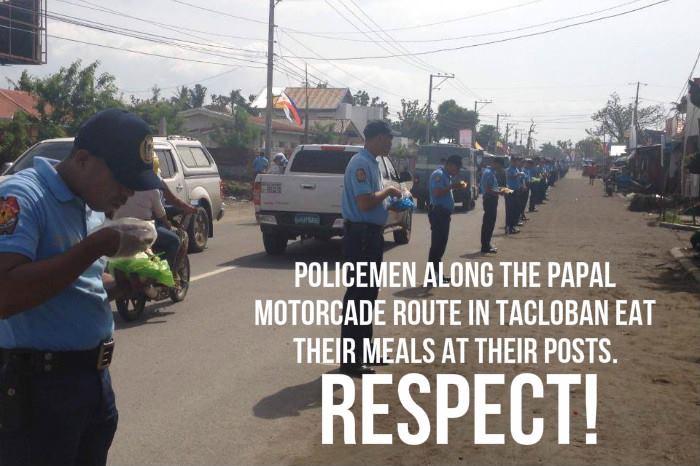 read it here : https://wawam.wordpress.com/2015/01/18/1monthsalarybonus-for-all-government-agency-personnel-who-served-in-pope-francis-visit/
———————————
As Pope Francis Visits Philippines, Tensions Between Church and Government Surface

read here : http://www.nytimes.com/2015/01/17/world/asia/after-meeting-with-pope-francis-philippine-president-criticizes-local-church-leaders.html?_r=0
this was the tweet that was included there:
we had other tweets on the Pope Francis philippine visit:
there were some on social media making something out of the color of the raincoats that were distributed and used by people in Tacloban – color yellow. they were making a point that the yellow color is an epal attempt by Aquino.
this tweet is the explanation, yellow is the papal color and in fact the Vatican City flag is in yellow and white.
this is the first selfie taken with Pope Francis. taken at Villamor Airbase today on his return from Tacloban.